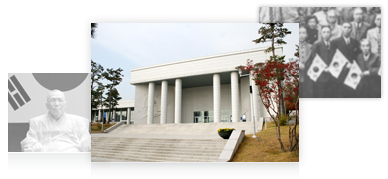 Home > Museum & Library

The Kim Koo Museum & Library opened on October 22, 2002 to disseminate the life and thoughts of Kim Koo (1876~1949), a great teacher of the Korean people. He dedicated his whole life to establish a unified, independent, and democratic fatherland with the most advanced and brilliant culture in the world. This museum and library is located within Hyochang Park in Hyochang-dong, Yongsan-gu, Seoul.




As a history museum that focuses on the modern history of Korea, it serves as a cultural space for Koreans, helping them understand the history of the Korean Provisional Government and the modern history of Korea through the life and thoughts of Kim Koo, who witnessed Korea's modern history that was full of cataclysmic events and changes. He pursued the nation's unification, based on autonomy, democracy, and peace, and contributed to the advancement of the nation's beautiful culture.

Consisting of two floors, the Exhibition Hall displays a variety of records and data regarding the biography of Kim Koo, who participated in the most significant events in the modern history of Korea (such as the Donghak Peasants Movement, activities as a righteous soldier, patriotic and enlightenment activities, the Korean Provisional Government, patriotic terrorist struggles, Korea Independence Army, unification campaigns, educational campaigns, etc.), through state-of-the-art exhibition techniques (such as tableaus, dioramas, models, animation, magic vision, documentary films, etc.). There is also a room that provides diverse and extensive data on Kim Koo, the Korea Provisional Government, Korea's modern history, and other national movements. In addition, this museum and library is equipped with a large conference room and a convention hall, offering the public (both individuals and organizations) educational and cultural spaces for rent. Diverse educational programs and cultural events are held in those areas.

Hyochang Park serves as the place of reverence for patriotic Korean forefathers. The tombs of Kim Koo, the Three Martyrs (Yi Bong-chang, Yun Bong-gil, and Jeonggi Baek), Martyr Ahn Jung-geun (though his body does not lie in state there), and leading figures of the Korean Provisional Government (Yi Dong-nyeong, Cha Ri-seok and Cho Seong-hwan) provide visitors with an opportunity to feel the lofty wills of those who have dedicated their whole lives to the nation.