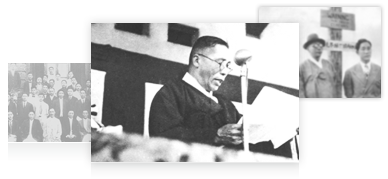 Home > KimKoo > Biography

Kim Koo(1876~1949)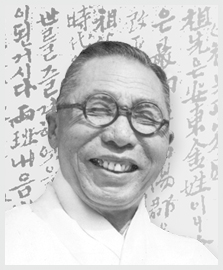 Kim Koo was born in 1876 in Baegun-dong, Haeju, Hwanghae-do Province. He learned the Chinese classics at a traditional community school. As a commander of the Donghak Peasants Army of Hwanghae-do Province he led the troops to bring down Haejusong Fortress in 1894. When the attempts of the Donghak Peasants Movement failed, he joined the Righteous Army Corps. In 1896 he killed a Japanese lieutenant, Tsuchida, at Chihapo Port, in order to avenge the murder of the Queen Myeongseong. He was imprisoned and sentenced to death.

Kim Koo studied western books while in prison, broadening his knowledge and idea. After escaping from prison, he entered the Buddhist priesthood and was ordained a Buddhist monk. However, in 1899, he quitted the priesthood and returned to secular life, where he exerted himself in educational activities and established several schools in Hwanghae-do Province. In 1907 he joined Sinminhoe, an underground independence organization working to restore national sovereignty. His high visibility as the organization's secretary general led to a second term of imprisonment in 1911. After being released from prison in 1915 he launched a rural enlightenment drive.

When Korea's March First Independence Movement emerged in 1919, Kim Koo was exiled to Shanghai, China. As the Police Bureau Commissioner, Minister of Internal Affairs, and Premier of the Korean Provisional Government (KPG), he strove to enliven the KPG amidst the difficulties of the times. He organized the Korean Patriotic Corps (KPC) in 1931. In the following year he led the struggle for independence with those of Yi Bong-chang and Yun Bong-gil, which generated a great response inside and outside Korea and energized the national independence movement. In 1940 he settled in Chongqing, China. As Premier of the KPG, he organized the Korea Independence Army and carried out full-scale anti-Japanese movements to accelerate national independence.

With the liberation of Korea, Kim Koo returned home from China in 1945. He carried out an anti-trusteeship movement against the United States and the Soviet Union. In 1948, spearheading the drive for unification, he opposed South Korea's general election because of its exclusion of North Korea. In the course of his activities for South-North unification, he was assassinated on June 26, 1949, by the powers impeding national unification.